RV Cover Fabric Options
Carver 8 oz. Performance Poly-Guard
Made in the USA! This fabric is a true loom woven polyester, making it much harder to tear than traditional covers. Treated with a marine grade water repellency and state of the art UV and mildew inhibitors, this cover is sure to protect your RV from the elements. Constructed of 600 denier filament polyester yarns. Easy to handle and extremely strong. Available in a Silver Cloud color. 5 year warranty.
ADCO DuPont Tyvek Plus Wind
Ideal for all weather climates, especially areas with high UV exposure and wind. The DuPont Tyvek top roof panel provides maximum protection from moisture and the sun's damaging rays. This roof panel extends partially down the front, back, and sides of the unit to provide extra protection and greater durability. Two-toned gray, triple layered polypropylene sides ensure maximum breathability, durability, and virtually eliminate mold and mildew. 3 year warranty. All ADCO DuPont Tyvek Plus Wind RV Covers come with four free tire covers, ladder cap, extra reinforcement material, and rain/gutter spout protectors.
ADCO SFS AquaShed Designer Series
Protect your 5th Wheel RV with the ADCO SFS AquaShed Cover. Ideal for climates with intense moisture and moderate sun including all northern states and Canada. The triple layer SFS AquaShed top panel beads water on contact. High performance triple layered polypropylene, two-toned sides ensure maximum breathability and virtually eliminate mold and mildew. 2 year warranty. All ADCO SFS AquaShed RV covers come with ladder cap, extra reinforcement material, rain and gutter spout protectors.
ADCO Storage Lot (4-layer Polypropylene)
The 4-layer Polypropylene construction on the roof and sides of this cover is Designed for long term storage, this material is highly water repellant and UV resistant. Fully breathable to prevent mold and mildew. Available in the color Tan. 2 year warranty.
Classic PolyPRO 3
The Classic PolyPRO™3 Pop Up Camper Cover is perfect for all-season protection. Thick, triple layered PolyPRO™3 top with breathable single layered PolyPRO™1 sides protects against rain, snow, dirt, nicks, and scratches. An integrated air vent system combined with quick drying PolyPRO™1 sides reduces wind stress and vents inside moisture. 3 year warranty.
PermaPRO
Classic Accessories PermaPRO RV Cover is specially designed to offer maximum protection year round, in all weather conditions. PermaPRO fabric is extremely tear resistant and features a rip stop construction which makes it excellent for areas with high winds. Additionally, this cover comes with ventilated panels which helps to increase the materials breathability and vent moisture while also reducing wind stress. PermaPRO RV Covers are designed to offer increased durability and weather resistance, and come with a lifetime warranty.
SkyShield
Classic Accessories SkyShield RV Cover is designed to offer the highest possible resistance to intense sun and heavy rain or snow. This is achieved in part through the covers roof which is constructed from Dupont Tyvek, a material which is proven to provide a completely weather proof barrier. The sides of this cover are crafted from a lighter weight, rip stop fabric which is easy to handle, along with being excellent for high winds. The cover is also vented to ensure added breathability and help ensure the fabric is not over-stressed during high wind conditions. SkyShield RV Covers provide premium protection from the elements throughout all seasons, and are warrantied for 4 years.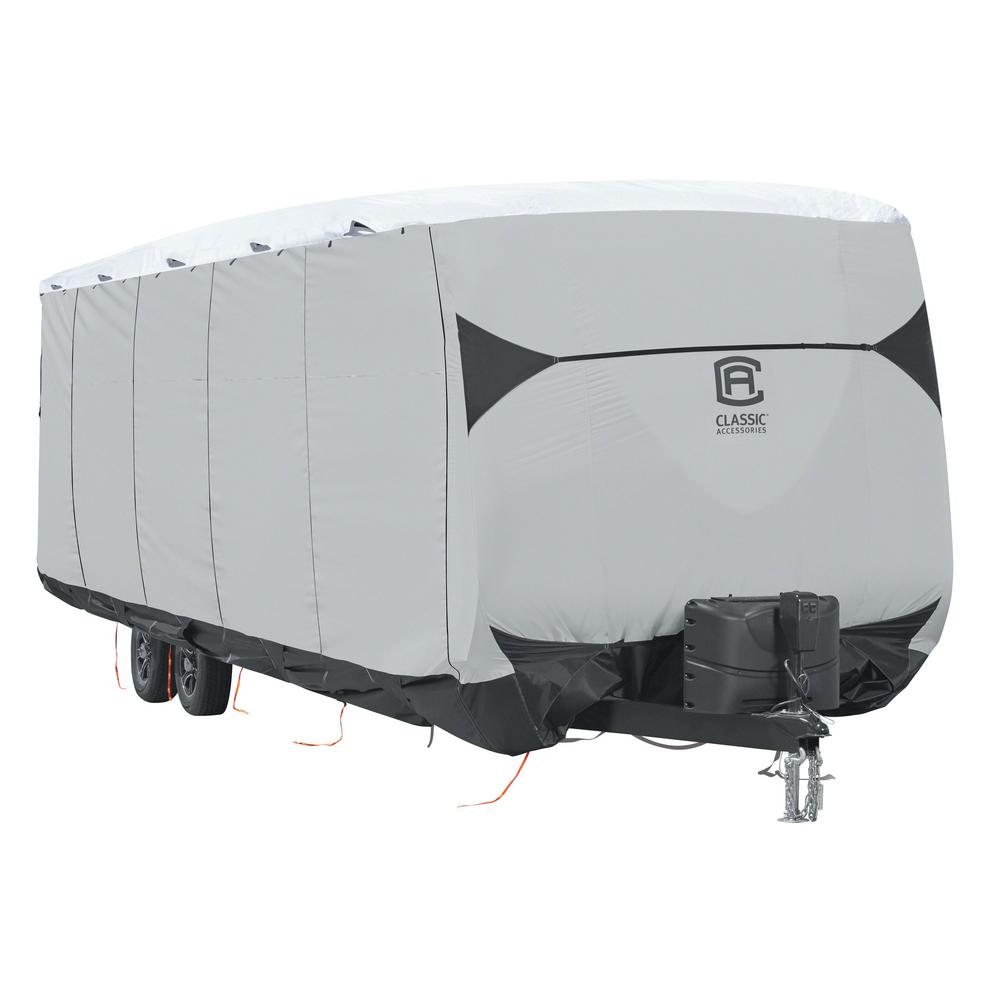 Next: Installing Your RV Cover